When life give you pecans, you go and make a lot of yummy things!
About a month ago, I was teaching yoga at a gym I work at and I brought my boyfriend, Itamar, to come practice with us. At the end of the class he saw this section with giant bags of nuts for purchase. Lol I know it sounds weird, but anyways that day we came home with 2 huge bags of nuts: almonds & pecans. Little did we know that the expiration date was about a month away. This past weekend I woke up with this urge to figure out what to do with all these pecans and just so you know, I have never made anything with pecans before. Besides never cooking with pecans, I have also never made milk, pudding or any sort of bar. This was a challenge I was ready to take on!
First thing I did was open my https://www.yummly.com app and search pecan just to see options things I could make. 
1) The first thing I opened was pecan milk.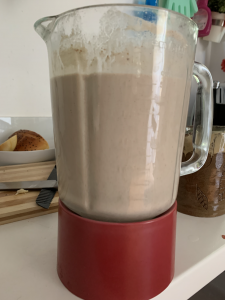 I have always wanted to make my own nut milk and now was my chance. I was very excited to read that it is much easier to made pecan milk than almonds because they are much softer so it's  pretty much just soaking and blending with water and VOILA! 
The recipe I got was from COOKIE+Kate and here is the attached link if you are interested in trying the recipe I tried 🙂
https://cookieandkate.com/pecan-milk-recipe/
In her instructions Kate mentions that you don't need to soak the pecans if you don't want to because your blender or mixer should be stronger enough. I soaked them for 4 hours anyways just in case.
After I soaked the pecans, I drained and rinsed them. Then I transferred the pecans in my blender, added 2 cups of water and pressed the GO button! I let it blend for about a minute before I added a bit of salt, vanilla extract and a little bit of cinnamon to really bring out that yummy flavor. 
THAT'S IT. Seriously my mind was blown at how simple it was to make my own milk. Right after that, I got so excited about it, I decided to move onto 2 other recipes with the use of my new beautiful pecan milk.
2) Tumeric Chai Latte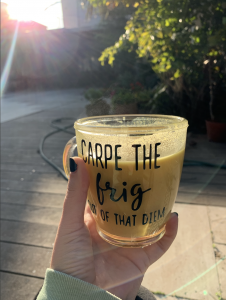 In my turmeric lattes, I usually just heat up whichever nut milk I have on the stove and add the following ingredients: my chai mix blend from India which has (ingredients), more cinnamon, tumeric and sugar/honey. After the blend starts to get hot, I turn off the heat and either pour it straight to the cup or if I'm feeling fancy, I'll strain it into my cup so it becomes more smooth. Either way its delicious!
3) Chia Pudding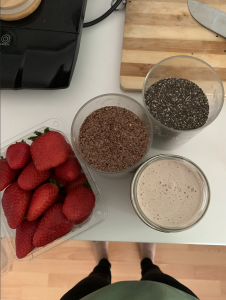 After I drank my latte, I went back inside and made my first chia pudding! YAY! I just put my pecan milk in a jar, added a three tablespoons of chia, one tablespoon of flax seeds and added 2 sliced strawberries. Closed it off and sent that baby to the fridge. When I plan to eat it, I will probably add some of the granola that I made right after this and a little honey.
4) Granola Bars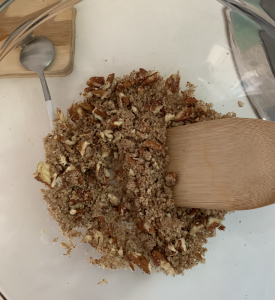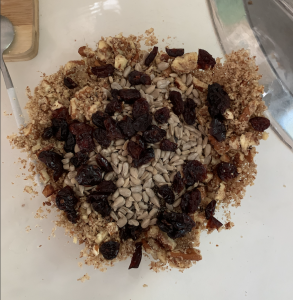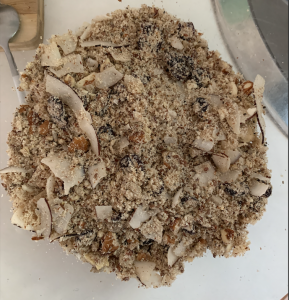 Okay now when I first opened up my Yummly app (link above) to see what I could make with pecans, granola bar was the second thing to jump up at me after milk. 
I looked at a couple recipes and saw they all were pretty similar so I decided to wing it on my own and see what happens!
First I crushed my pecans &and almonds in a mini mixer and added the mix to the bowl. I didn't want it fully blended so there could still be some bigger pieces. Then I added some extra fun things like sunflower seeds, cranberries, chia seeds, flax seeds and coconut slices. And last but not least, the rolled oats. 
After all the dry ingredients were mixed and crushed, I moved on to wet ingredients. I heated up a mixture of coconut oil, vanilla extract, brown sugar and salt and then poured it on to theory mixture. When I felt everything was coated, I put it in the oven for about 40 min at 150 degrees Celsius.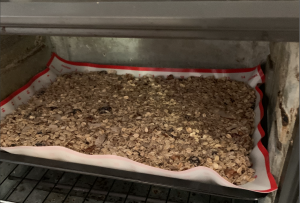 When the bell rang on the oven. I decided moved a bit of the granola to a bowl and then rest I mixed with peanut butter to create my ultimate first batch of granola bars!!  
I pressed down on them with a cookie sheet to make sure they would be strong and not break apart and then put them in the fridge for a couple of hours to harden. 
THEY CAME OUT BEAUTIFULLY!! I sliced them into bars, individually wrapped them and placed them back in the fridge. They started to fall apart a little after touching them so next time I will try to look up a way for them to be more sturdy but they were still delicious so I am proud!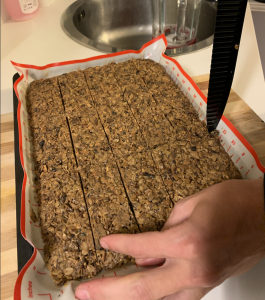 Conclusion
My dance with Pecans yesterday was a glorious dance. I took some pictures but oh, how I wish you could have been there with me. Maybe next time! If you have any questions or feedback leave a comment below 🙂 Thanks for reading!